If you've got an overgrown lot that needs to be cleared, you may be considering forestry mulching to do the job. But if you don't necessarily want to leave the mulch behind, you're probably wondering how to clean up after forestry mulching. While this mulched material is excellent for keeping the soil moist and adding organic matter to the ground, not every job calls for it being left behind. Here are a few tips on using the mulch and making the cleanup process easier.
Mulch or no mulch? Either way, forestry mulching is the easiest land clearing method for many lots, and you won't have to break a sweat. Get a quote today!
Benefits of mulching
Mulchers are a great alternative to grubbing and burning. With mulching, vegetation can be selectively cut and processed by removing saplings and underbrush, grinding the material, and returning it to the ground. This mulching action creates a natural barrier that will nourish the soil and inhibit the regrowth of invasive species. By using a mulcher (or even better, hiring a professional forestry mulching crew) to clear land and leaving the mulch behind, you don't have to clean up a mess afterward. However, when deciding how to clear land, it is essential to remember that you will have to maintain the mulch and the ground in the future. You will not find a land management option that offers a "one-and-done" solution to support your land. The remediation of unwanted vegetation requires consistent and timely management.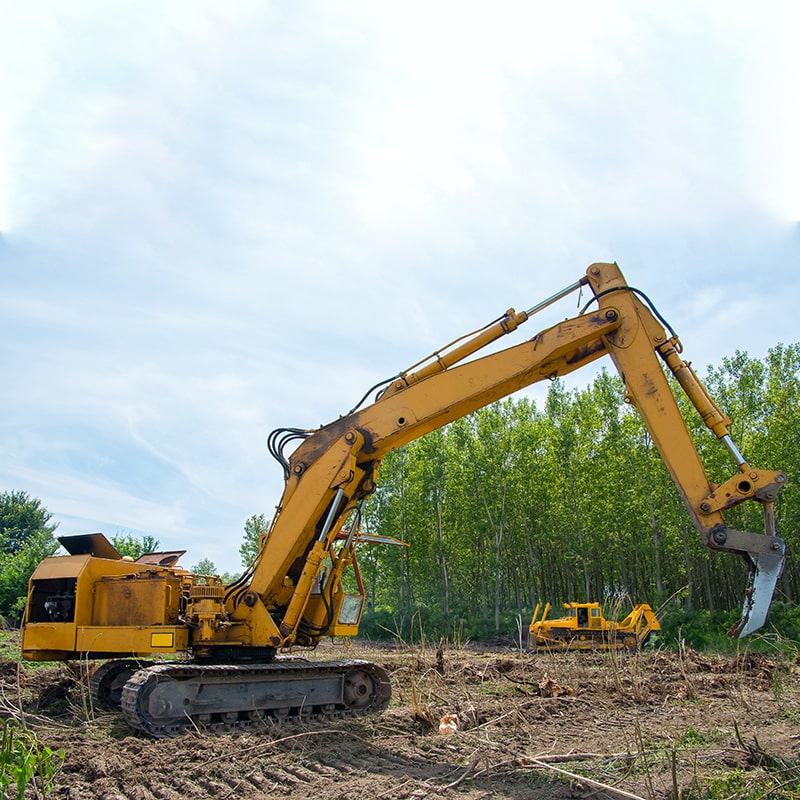 How to clean up after forestry mulching
When it comes to how to clean up after forestry mulching, there are really just two ways to do it: the hard way and the easy way.
The hard way
The hard way is to do it yourself. If you want to remove the mulch on your own, start by collecting it with a shovel or pitchfork and putting it into a larger container, like a wheel barrow. Or, you can scrape the mulch up with a box blade instead. If you're not throwing it away, there are various ways to repurpose it. This method is very labor intensive, and is one of the many reasons landowners tend to hire professional forestry mulching services instead of trying to DIY it.
The easy way
Let someone else do the job! Cleaning up and removing the mulch and grindings isn't fun. Honestly, removing the mess is easiest when you don't have do it yourself. The better option here is to hire a professional service for forestry mulching. After the mulching is done, you can ask them to take away the leftover materials as well. In the Austin, TX area, Lonestar Forestry Mulching is setting the standard for quality land clearing.
Ways to use mulch
After the mulch has been collected, instead of throwing it away or using it as a top layer on soil, there are various other ways in which you can use the mulch.
Use it as compost
Mulch can be an acceptable ingredient for your compost pile. So, make a compost out of it and use it as a natural fertilizer. You can also add food scraps and garden waste. The mulch will decompose and become rich in nitrogen before adding it to your garden beds and plants or using it on your farm. Don't forget to turn your compost pile every once in a while so that it can decompose more quickly.
Create attractive garden paths and walkways
A simple and inexpensive way to give your garden path a more natural appearance is to use wood chips from your forestry mulching job. Keep in mind that a new layer of grindings will need to be applied regularly, as over time it will start to decompose.
Use it as a ground cover for a dog run
One of the most commonly used ground covers for a dog run is wood chips, seeing that they're obtainable and relatively easy to put down. Moreover, they keep dirt at a minimum. However, the wood chips might absorb urine, causing an odor over time. Luckily, they are easy to remove and replace. Therefore, it's the way to go if you have a dog!
Ready to get your land cleared?
If you're wondering how to clean up after forestry mulching, even the thought of cleaning up feels like a huge hassle. That's where Lone Star Forestry Mulching comes in – we take care of all the dirty work, so you don't have to. Once we're done mulching and cleaning, you can use the mulch for landscaping, gardening, or any other project you have in mind if you want it. If not, we will haul it away for you. So if you need forestry mulching services in or around Georgetown to Austin, Texas, give us a call today!